Contucci Pietra Rossa Vino Nobile di Montepulciano 2016
Taste the rich history of Montepulciano in every sip of Contucci's Single Vineyard Vino Nobile – a tribute to the traditions and flavors of this beautiful region.
read more
Wine style
Red wine
---
Alcohol
14%
Grapes
Canaiolo Nero, Colorino, Sangiovese
---
Appellation

DOCG Nobile di Montepulciano
Taste profile

Rich and complex
---
Food pairing

Local pastas, red meat and game
Drinkable

From
2020
till
2033
Wine description
This wine is produced by vinifying the best grapes sourced from the Pietra Rosa vineyard, owned by the company, located in Salarco Alto, in the municipality of Montepulciano. The vines are 35 years old. The vineyard covers approximately two hectares and is situated on pliocene soils (red clay) at an altitude between 350 and 450 meters above sea level, with a southeast exposure.
The grapes used are mainly Sangiovese (known as "Prugnolo Gentile" in Montepulciano), with small percentages of other indigenous red grapes. The cultivation system is spalliera with cordone speronato pruning, with a plant density of 4,500 vines per hectare.
After the manual harvest, which usually begins in the third week of September, the grapes are selected and destemmed, after which the obtained juice is inoculated with selected yeasts and started with alcoholic fermentation. This phase, carried out in steel and cement tanks, lasts about 18-20 days at a temperature between 26 and 28°C. At the same time, maceration on the skins is also performed, which lasts for the same period and is subjected to frequent remontages. After pressing, the wine is placed in steel tanks or oak barrels, where malolactic fermentation takes place, after which it is transferred to oak barrels (French and Slavonian) of 10 to 15 Hl, where it matures for 30 months, being racked every 6 months. After maturation and a decanting period of 3-4 months in steel tanks, the wine is bottled and aged for another 8-10 months before being released to the market.
Approximately 8,000-10,000 bottles are produced per year. The best vintages are 2001, 2004, 2006, 2007, 2010, 2012, 2015, and 2016 (last 20 years). The wine reaches maturity after 18-25 years from the harvest, and the plateau of maturation is between 4 and 15 years.
The winery has been owned by the Contucci family since the 11th century and covers an area of 170 hectares, of which 22.5 hectares are vineyards, 7 hectares are olive groves, and 141 hectares are agricultural land and forest. The agronomic and oenological aspects are directly taken care of by the owners.
Product specifications

Region:  Toscane
Vintage:  2016
Wine style: Red wine
Grapes: Canaiolo Nero, Colorino, Sangiovese
Alcohol: 14%
Volume: 750 ml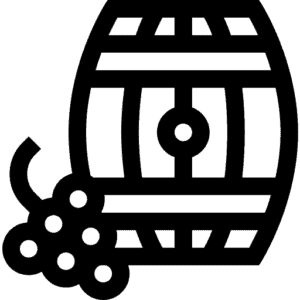 Winery: Contucci

Appelation: DOCG Nobile di Montepulciano
  Drinkable from 2020 till 2033

Serve: 18 °C

  Food pairing: Local pastas, red meat and game
  Shipment: In stock
Food pairing
This Contucci's Vino Nobile di Montepulciano comes from a single vineyard, giving each bottle a unique and distinctive flavor. This wine has a rich and powerful taste profile, with notes of ripe dark berries, plums, spices, and a hint of vanilla. The wine has a full body and a long finish, with velvety tannins that are perfectly balanced, but tastes different from other single vineyard wines due to its red clay.
If you're looking for a wine that perfectly pairs with the culinary delights of Montepulciano, then this Vino Nobile is an absolute must-try. It's the perfect companion for a juicy Bistecca di Chianina, locally grown vegetables, and crispy flatbread. Or enjoy a glass of this top wine in combination with delicious cheeses from Pienza.
Contucci's Vino Nobile di Montepulciano is not only a taste sensation but also a tribute to the centuries-old tradition and culture of this region. With its unique flavor profile and single vineyard origin, this wine is an absolute must-have for any wine lover.

The winery
Contucci is a winery with a rich history dating back to the year 1000. In the 14th century, the Contucci family members were already one of the most prominent families in Montepulciano. The winery boasts a beautiful salon adorned with frescoes from 1702 by the famous Andrea Pozzo, and the family is represented by a coat of arms featuring an upright unicorn on a blue field, symbolizing pride and truth.
Throughout the centuries, family members have held various important positions, including Gonfalonieri, a position granted only to distinguished families and accompanied by high costs. Some family members were also active as scholars and artists, such as Giulio Contuccio, a doctor of civil and canon law at the University of Pisa and one of the founders of the Colonia Arcadica of Montepulciano.
In the 19th century, the family produced Giuseppe Contucci as one of the first "Vino Nobile" wines and constantly strived for quality and innovation in wine production. Today, the Contucci family continues this tradition by continuing to improve their wines and enjoying a reputation as excellent winemakers.
Tuscany
Tuscany is a region in Italy known for its beautiful landscapes, rich culture and history, and culinary traditions. But Tuscany is also one of the most important wine regions in the world, with some of the most prestigious wines out there.
In the rolling hills of Tuscany, you'll find the vineyards of Chianti, where the famous Chianti Classico is produced. This wine has a robust flavor and is made from the Sangiovese grape, supplemented with other grapes such as Canaiolo, Colorino, Cabernet Sauvignon, and Merlot. Brunello di Montalcino and Vino Nobile di Montepulciano are also world-famous wines produced in Tuscany.
In addition to red wines, Tuscany also has a delicious white wine, the Vernaccia di San Gimignano. This wine is produced in the hills around the medieval town of San Gimignano and has a fresh and mineral taste.
Tuscany is also home to the Super Tuscan wines, which are produced in the Bolgheri area on the coast of the Tyrrhenian Sea. These wines are often made from a combination of grape varieties such as Sangiovese, Cabernet Sauvignon, Merlot, and Syrah.
Whether you're a fan of red or white wine, Tuscany has something for everyone. Combine a visit to the historic cities and beautiful landscapes of Tuscany with a wine tasting at one of the many vineyards in the region. Discover the flavors and aromas of the different wines and enjoy the culinary delights of the region.
Explore Tuscany and its wines and taste the passion and tradition of this beautiful wine region in Italy.