Palazzo Contucci Vino Nobile di Montepulciano 2016
This classic Vino Nobile di Montepulciano is the result of a pure selection of the best that Contucci has to offer. Indulge in the perfect pairing of our exquisite wines with the rich culinary traditions and top-quality local products of Montepulciano. Discover the harmonious blend of flavors and experience a truly unique and unforgettable culinary journey.
read more
Wine style
Red wine
---
Alcohol
14%
Grapes
Canaiolo Nero, Colorino, Sangiovese
---
Appellation

DOCG Nobile di Montepulciano
Taste profile

Rich and complex
---
Food pairing

Slow Food
Drinkable

From
2020
till
2036
Wine description
This refined Vino Nobile was created to celebrate the 500th anniversary of the family palace in 2017. It was produced by manually selecting the best grapes from the Pietra Rossa and Mulinvecchio vineyards, and only 4000 numbered bottles were produced.
The vineyards are located on Pliocene soils (clay and sand) at an altitude between 350 and 450 meters above sea level, with a southeastern exposure. The grapes used are mainly Sangiovese (known in Montepulciano as "Prugnolo Gentile"), with small percentages of other native red grapes.
The vines are trained in espaliers with spur pruning and a planting density of 4500 vines per hectare. The grapes are hand-harvested from the third decade of September and then selected and destemmed before the crushed grapes are inoculated with selected yeasts to start alcoholic fermentation. This phase, which takes place in steel and concrete tanks, lasts about 20-21 days at a temperature between 26 and 28°C. During this period, maceration on the skins also takes place, which also lasts 20-21 days with daily frequent remontages. After racking, the wine is placed in steel tanks or oak barrels, where malolactic fermentation takes place. After this phase, the wine is moved to oak barrels (both French and Slavonian) of 5 to 20 hectoliters, where it ages for 36 months. During this period, racking takes place every 6 months. After this aging and another 4-6 months of decanting in steel tanks, the wine is bottled for further aging of 8-12 months before being released to the market.
Only 4000 numbered bottles of this wine have been produced, and the best vintages are 2013, 2015, and 2016. It reaches maturity after 20-30 years from the harvest, and the aging period varies from 4 to 16 years. The winery has been owned by the CONTUCCI family since the 11th century, and the agricultural company covers an area of 170 hectares, of which 22.5 hectares are vineyards, 7 hectares olive grove and 141 hectares arable land and forest. The agronomic and oenological aspects are taken care of directly by the owners.
Product specifications

Region:  Tuscany
Vintage:  2016
Wine style: Red wine
Grapes: Canaiolo Nero, Colorino, Sangiovese
Alcohol: 14%
Volume: 750 ml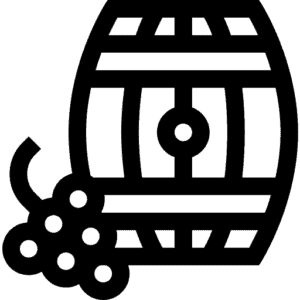 Winery: Contucci

Appelation: DOCG Nobile di Montepulciano
  Drinkable from 2020 till 2036

Serve: 18 °C

  Food pairing: Slow Food
  Shipment: In stock
Food pairing
There is no better way to enjoy Contucci wines than in combination with the delicious local products of Montepulciano. This region is known for its rich culinary traditions and the production of top-quality artisanal cheeses and cured meats. Contucci wines are the perfect complement to these flavorful delicacies.
For true foodies, the region also offers freshly picked, high-quality truffles. The earthy flavor of these truffles pairs perfectly with the rich and complex flavors of Contucci wines, creating a perfect harmony in your mouth.
And to further indulge your taste buds, Montepulciano olive oil should not be forgotten. This highest-quality olive oil is an essential ingredient in traditional Tuscan cuisine and has a distinctive taste and aroma. Combined with Contucci wines, it creates a unique flavor experience that you don't want to miss.
Discover the perfect combination of flavors and enjoy a unique culinary experience with the excellent wines of Contucci and the local products of Montepulciano.

The winery
Contucci is a winery with a rich history dating back to the year 1000. In the 14th century, the Contucci family members were already one of the most prominent families in Montepulciano. The winery boasts a beautiful salon adorned with frescoes from 1702 by the famous Andrea Pozzo, and the family is represented by a coat of arms featuring an upright unicorn on a blue field, symbolizing pride and truth.
Throughout the centuries, family members have held various important positions, including Gonfalonieri, a position granted only to distinguished families and accompanied by high costs. Some family members were also active as scholars and artists, such as Giulio Contuccio, a doctor of civil and canon law at the University of Pisa and one of the founders of the Colonia Arcadica of Montepulciano.
In the 19th century, the family produced Giuseppe Contucci as one of the first "Vino Nobile" wines and constantly strived for quality and innovation in wine production. Today, the Contucci family continues this tradition by continuing to improve their wines and enjoying a reputation as excellent winemakers.
Tuscany
Tuscany is a region in Italy known for its beautiful landscapes, rich culture and history, and culinary traditions. But Tuscany is also one of the most important wine regions in the world, with some of the most prestigious wines out there.
In the rolling hills of Tuscany, you'll find the vineyards of Chianti, where the famous Chianti Classico is produced. This wine has a robust flavor and is made from the Sangiovese grape, supplemented with other grapes such as Canaiolo, Colorino, Cabernet Sauvignon, and Merlot. Brunello di Montalcino and Vino Nobile di Montepulciano are also world-famous wines produced in Tuscany.
In addition to red wines, Tuscany also has a delicious white wine, the Vernaccia di San Gimignano. This wine is produced in the hills around the medieval town of San Gimignano and has a fresh and mineral taste.
Tuscany is also home to the Super Tuscan wines, which are produced in the Bolgheri area on the coast of the Tyrrhenian Sea. These wines are often made from a combination of grape varieties such as Sangiovese, Cabernet Sauvignon, Merlot, and Syrah.
Whether you're a fan of red or white wine, Tuscany has something for everyone. Combine a visit to the historic cities and beautiful landscapes of Tuscany with a wine tasting at one of the many vineyards in the region. Discover the flavors and aromas of the different wines and enjoy the culinary delights of the region.
Explore Tuscany and its wines and taste the passion and tradition of this beautiful wine region in Italy.